Give Your Child The Most Exciting Birthday Party in North Canton!
Your child's birthday is one of the most exciting days of the year, so make it memorable with a party at NEO All Stars! We provide fun and active birthday parties for any child in the Canton area, providing them with everything from trampolines to inflatable obstacle courses! Our parties are also 100% stress-free for parents -- our team will provide professional supervision, keep your child's friends active and engaged, and give you the peace of mind you deserve. All you'll need to do is man the camera!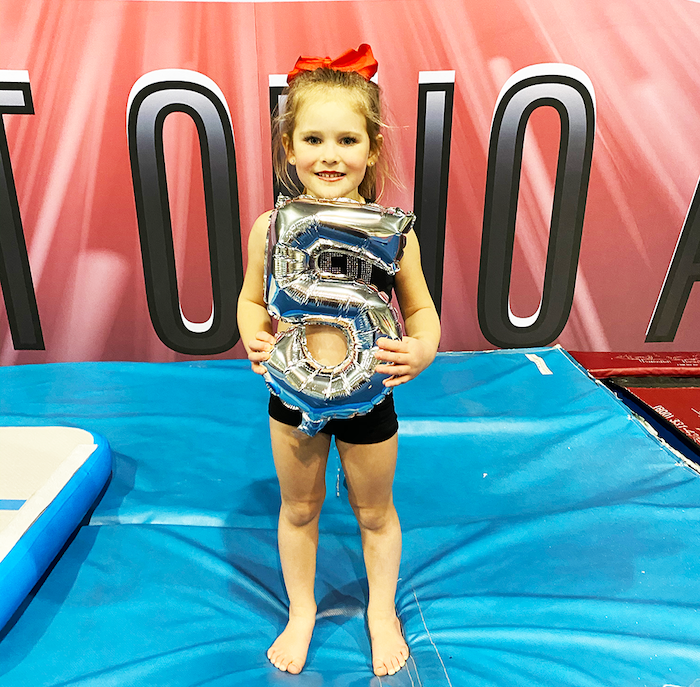 To reserve your child's birthday weekend, just fill out the form below!
What Do Our Birthday Parties Offer?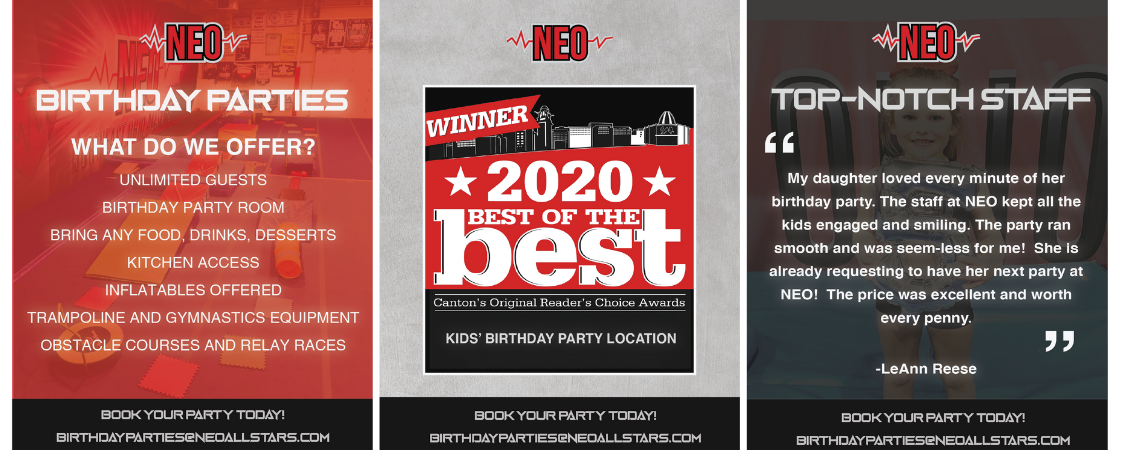 From setup to clean up, we provide an exciting and engaging birthday for your child and a totally stress-free experience for parents. We offer awesome, high-energy activities such as trampolines, relay races, tumbling lessons, and an inflatable obstacle course! We'll also provide paper plates, cups, napkins, and plastic silverware at your request. If you want two hours jam-packed with fun, NEO All Stars is the place to be for your child's big day!
Our birthday parties include:
2 hours of professional supervision
Unique birthday activities like tumbling & trampolines
Help setting up decorations and storing cake
Free trial classes for every guest
We charge $200.00 per party. A $75.00 deposit is required to hold the date and will be subtracted from the total cost.
AVAILABILITY:
**Effective January 1, 2022**
Friday
5:00 PM – 7:00 PM
7:30 PM – 9:30 PM
Saturday
12:00 PM – 2:00 PM
2:30 PM – 4:30 PM
5:00 PM – 7:00 PM
7:30 PM – 9:30 PM
Sunday
12:30 PM – 2:30 PM
Reserve Your Child's Birthday Weekend Today!
NEO All Stars is proud to offer exciting and high-energy birthday parties for every child in North Canton. From fun tumbling lessons to trampolines and inflatable obstacle courses, we have all the tools required to create a memorable birthday! Take the stress out of planning, supervising, and cleaning up -- we'll handle the tough stuff for you. Spots fill up quickly, so book your child's birthday weekend now!
To reserve your spot, just fill out the short form below!
If you have any further questions or concerns, please email our Birthday Party Coordinator at birthdayparties@neoallstars.com.